Adventures of Superman: Jon Kent
#3A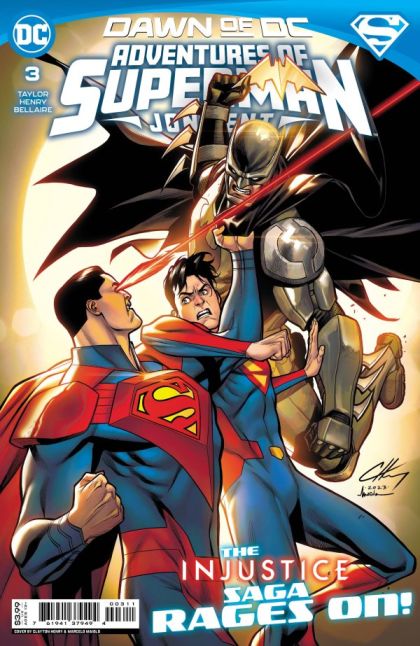 Clayton Henry Regular
Release: May 02, 2023
Jon Kent arrives on an Earth he's never seen…the world of Injustice! While a Kal-El rules this world in seeming peace, why does everyone Jon meets fear the S symbol on his chest? And why is Batman public enemy number one? Jon has to pick a side, and the consequences make either choice a dangerous one!
Creators
| | |
| --- | --- |
| Writer | Tom Taylor |
| Artist | Clayton Henry |
| Colorist | Jordie Bellaire |
| Letterer | Wes Abbott |
| Cover Artist | Clayton Henry |
| Editor | Paul Kaminski |
| Editor in Chief | Marie Javins |
---
Barbarella: The Center Cannot Hold
#3A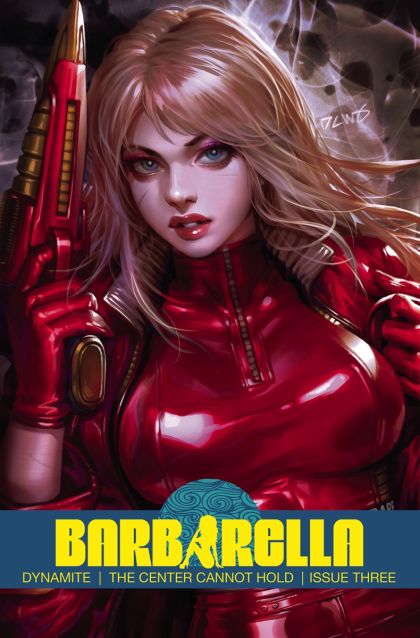 Derrick Chew Regular
Release: May 03, 2023
Having met the Innumerable and joined their cause against the Architects, Barbarella must clandestinely return to the home of the Architects in order to retrieve Vix, left behind when Barbarella was extracted by an agent of the Innumerable. See? We've come full circle! As is often the case, it's not what you see that's the danger, it's what you can't see, and Barbarella sees plenty of that wherever she sees an Architect. And lest we forget, there is the small matter of the Unnamable out there…
Creators
| | |
| --- | --- |
| Writer | Sarah Hoyt |
| Artist | Riccardo Bogani |
| Cover Artist | Derrick Chew |
---
Creepy Archives TP
#1
Release: May 03, 2023
Gather your wooden stakes and silver bullets and descend into horror history with Creepy Archives Volume 1. Reanimated in a value-priced paperback format, and in its original magazine size, this gruesome grimoire presents some of the finest work by comics legends Archie Goodwin, Frank Frazetta, Al Williamson, Reed Crandall, Alex Toth, Joe Orlando, and more. Collects Creepy magazine issues #1-#5 and includes original letters pages, text features, and ads.
---
Love Everlasting
#7A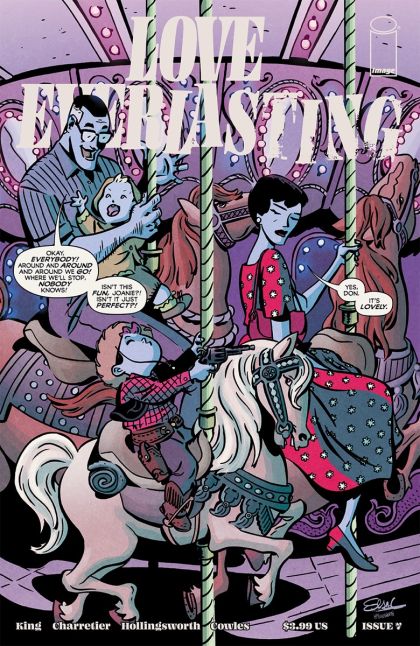 Elsa Charretier Regular
Release: May 03, 2023
"TOO HIP FOR LOVE," Part Two The acclaimed horror/romance series continues. After the game-changing twist in the last issue, Joan wakes up in a world she does not and cannot understand. Every rule has been broken, and she must fight her way out of this new trap of love or face her greatest fear-her wedding night!
Creators
| | |
| --- | --- |
| Writer | Tom King |
| Artist | Elsa Charretier |
| Cover Artist | Elsa Charretier |
---
Peacemaker Tries Hard!
#1F
Eric Battle Embossed Foil Variant
Release: May 02, 2023
Having earned his release from the Suicide Squad, Peacemaker wants to try and do normal superhero stuff for a change. Unfortunately everyone, including the bad guys, thinks he sucks at superhero stuff. But when busting up a terrorist ring introduces Christopher Smith to the cutest thing to ever walk (awkwardly) on four legs, he finds the unconditional love he's been denied his whole life. That is, until the dog is kidnapped right out from under him by a super-villain who has some very un-super-heroic plans for Peacemaker's brand of ultraviolence. Will he help an infamously unstable super-powered criminal steal the world's most valuable-and dangerous-DNA? Honestly, Christopher's pretty lonely, so it probably just depends on how nicely they ask… Breakout writer Kyle Starks (I Hate This Place, Six Sidekicks of Trigger Keaton) and art legend Steve Pugh (Preacher Special: Saint of Killers, Harley Quinn: Breaking Glass) deliver a brutal and hilarious take on DC's biggest P.O.S. that will bust guts, break bones, and melt hearts!
Creators
| | |
| --- | --- |
| Writer | Kyle Starks |
| Artist | Steve Pugh |
| Colorist | Jordie Bellaire |
| Cover Artist | Eric Battle |
| Editor in Chief | Marie Javins |
---
Sandman Mystery Theatre Compendium TP
#1
Release: May 02, 2023
Art by Guy Davis, John Watkiss, R.G. Taylor, and others In this noir collection, millionaire Wesley Dodds becomes the Sandman to fight injustice in 1930s New York City, going after kidnappers, blackmailers, and predators who prey on rich socialites. Armed with a tranquilizing gas gun and driven by an unrelenting sense of justice, the Sandman moves through a decadent post-Depression landscape, stalking the predators who hide themselves beneath society's callous indifference to the weak and vulnerable. This first of two compendiums collects SANDMAN MYSTERY THEATRE #1-36 and SANDMAN MYSTERY THEATRE ANNUAL #1 and features an introduction from comedian Patton Oswalt, the voice of Matthew the Raven on Netflix's The Sandman!
---
Shazam!, Vol. 4
#1A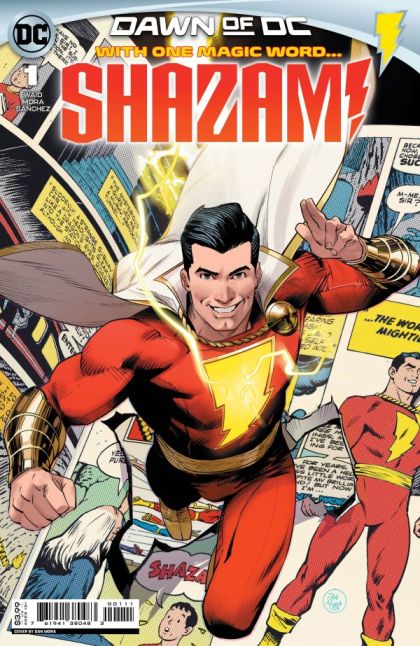 Dan Mora Regular
Release: May 02, 2023
The World's Finest creators present the World's Mightiest Mortal in a dazzling solo series! Dinosaurs from space! The Clubhouse of Eternity! Homicidal worms and talking tigers! Atomic robots, alien worlds, mad scientists, sinister curses, and villains from throughout the DC Universe-welcome to the wild adventures of Billy Batson, whose big red alter ego defends the Earth from its weirdest and wildest threats! Want to stop Lex Luthor and The Joker? Call Superman and Batman! International crises? Page Wonder Woman! But when Garguax, Emperor of the Moon, sets his sights on Gorilla City, that's when you shout Shazam! The fan-favorite team of Mark Waid and Dan Mora (Batman/Superman: World's Finest) brings the magic!
Creators
| | |
| --- | --- |
| Writer | Mark Waid |
| Artist | Dan Mora |
| Colorist | Alejandro Sánchez-Rodriguez |
| Letterer | Troy Peteri |
| Cover Artist | Dan Mora |
| Editor | Brittany Holzherr |
| Editor in Chief | Marie Javins |
---
As always, special thanks go out to my comic shop, Comic Logic Books & Artwork. Please remember to support your local comic shop, and if you need to find one, click here.
---
Born and raised in the sparsely populated Upper Peninsula of Michigan, Jon Maki developed an enduring love for comics at an early age.
---