The Pull List For 5.24.23
Action Comics, Vol. 3
#1055A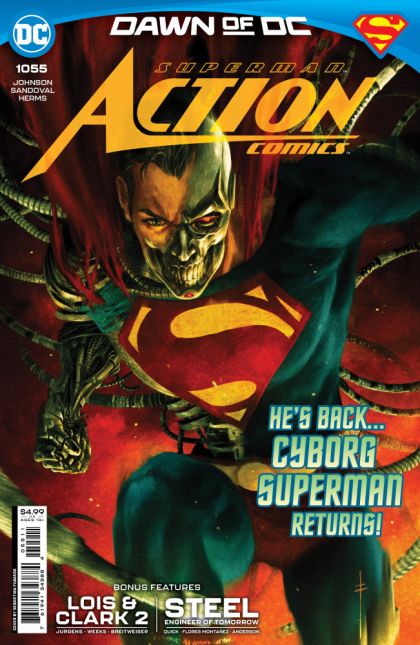 Sebastian Fiumara Regular
Release: May 23, 2023
Written by Phillip Kennedy Johnson, Dan Jurgens, and Dorado Quick Art by Rafa Sandoval, Lee Weeks, and Yasmin Flores Montanez Superman's true enemy has been revealed: the Cyborg Superman, Hank Henshaw! Everything the Super-Family has built stands on a knife's edge, and Superman and Metallo become the unlikeliest of allies as they hunt for Metallo's missing sister. Can they prevent the inevitable devolution of Metallo's mind and body long enough to save his sister from Henshaw's monstrous plans?
Creators
| | |
| --- | --- |
| Writer | Dan Jurgens | Phillip Kennedy Johnson | Dorado Quick |
| Artist | Lee Weeks | Rafa Sandoval | Yasmin Flores Montanez |
| Colorist | Brad Anderson | Matt Herms | Elizabeth Breitweiser |
| Letterer | Rob Leigh | Dave Sharpe |
| Cover Artist | Sebastian Fiumara |
| Editor | Paul Kaminski | Brittany Holzherr |
| Editor in Chief | Marie Javins |
Jon Says:
As with Superman, I have no complaints. Just simple, straightforward super-action.
---
Blue Book
#4A
Michael Avon Oeming Regular
Release: May 24, 2023
Madness and paranoia continue to take a toll on the sanity of Betty and Barney Hill as they search for help in determining whether their nightmares may have been missing memories of their alien encounter. Tiny Onion Studios and Dark Horse Comics present a line of upcoming creator-owned work from the mind of James Tynion IV across a broad spectrum of his interests, from nonfiction supernatural encounters to high concept coming-of-age monster comics. Also including True Weird: The Cinder Woman by Steve Foxe, John McCrea, and Aditya Bidikar.
Creators
| | |
| --- | --- |
| Writer | James Tynion, IV | Steve Foxe |
| Artist | John McCrea | Michael Avon Oeming |
| Cover Artist | Michael Avon Oeming |
Jon Says:
This feels like a nice companion piece/complement to Tynion's Department of Truth, and I enjoy the sort of Dragnet approach to the storytelling. That is, simply laying out the facts of the story.
---
Sandman Universe: Dead Boy Detectives
#6A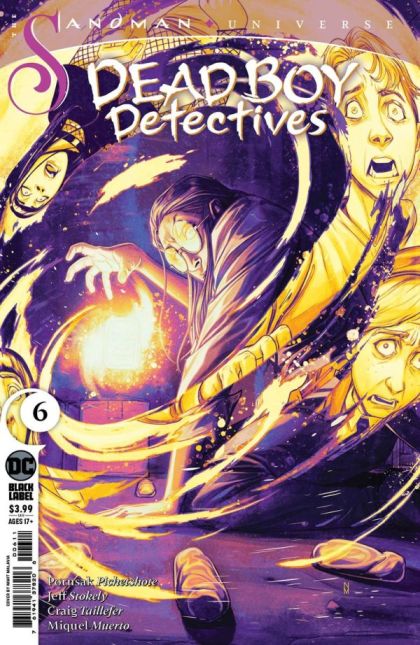 Nimit Malavia Regular
Release: May 23, 2023
Thessaly the witch presents Edwin and Charles with an impossible choice in this series' thrilling conclusion-what would two dead boys be willing to sacrifice to save themselves from the terrifying unknown, and the very order of magic as they understand it?
Creators
| | |
| --- | --- |
| Writer | Pornsak Pichetshote |
| Artist | Jeff Stokely |
| Cover Artist | Nimit Malavia |
| Editor in Chief | Marie Javins |
Jon Says:
It's been interesting to see life after death taking so many different forms in this series. Also, is the TV series still happening, or at least planned to happen once the strike ends? Last I'd seen, it was headed for Netflix rather than DC Universe HBO Max Max.
---
Superman, Vol. 1 Annual
#10A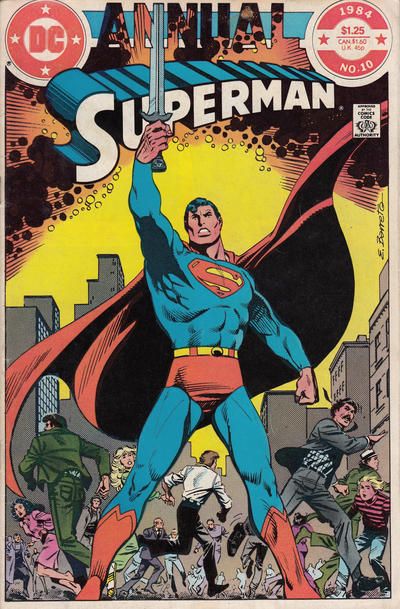 Release: 1984
Cover: 1984
Creators
| | |
| --- | --- |
| Penciller | Curt Swan |
| Inker | Murphy Anderson |
| Colorist | Gene D'Angelo |
| Letterer | Ben Oda |
| Cover Artist | Eduardo Barreto |
| Editor | Julius Schwart |
Jon Says:
I was flipping through the back issues and saw this one. I used to own it, and given that it was selling for less than its original price, I figured I might as well do so again.
Also, Casually Comics did a video about this issue a while back:
---
Thor, Vol. 6
#34A
Nic Klein Regular
Release: May 24, 2023
THOR, DOCTOR DOOM, and… THANOS?! While Thor races Doctor Doom through time before Doom can tear reality itself asunder in his latest grab for power, they find Thanos at the heart of it all, finally revealing the power struggle that brought Thor's grandfather, Bor, and Thanos to all-out war – the ultimate weapon, hidden away for millennia. But Doom will stop at nothing to control it! Rated T+
Creators
| | |
| --- | --- |
| Writer | Torunn Grønbekk |
| Artist | Juan Gedeon |
| Penciller | Sergio Fernandez Davila |
| Inker | Sean Parsons |
| Colorist | Matt Wilson |
| Letterer | Joe Sabino |
| Cover Artist | Nic Klein |
| Editor | Wil Moss |
| Editor in Chief | C. B. Cebulski |
Jon Says:
IDK, it's Thor. I've been sticking with the Thunder God pretty much since I started buying comics again. I don't really have a lot praise to heap on the book, but I don't have any real complaints, either. It has its highs and lows, but it's generally pretty dependable.
---
Unstoppable Doom Patrol
#3A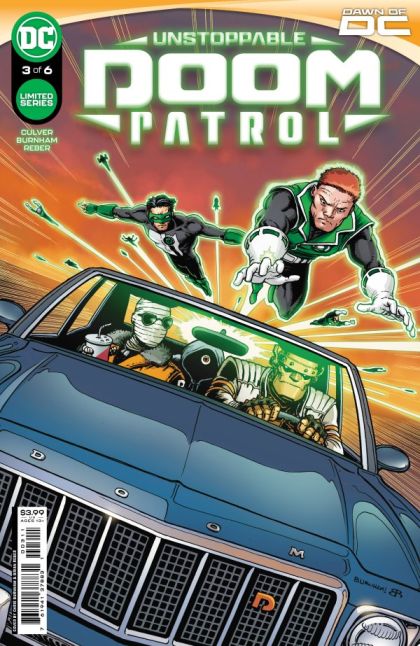 Chris Burnham Regular
Release: May 23, 2023
The Green Lanterns are in hot pursuit of the World's Strangest Superheroes! When a brand-new metahuman unwittingly becomes a galactic fugitive, Robotman and Negative Man embark on a cross-country road trip to save him! Cliff Steele may be the best driver in the DCU, but can he outrun its best GLs, Guy Gardner and Kyle Rayner?! Find out in the story we had to call The Fast and the Nebulous!
Creators
| | |
| --- | --- |
| Writer | Dennis Culver |
| Artist | Chris Burnham |
| Colorist | Brian Reber |
| Letterer | Pat Brosseau |
| Cover Artist | Chris Burnham |
| Editor | Ben Abernathy |
| Editor in Chief | Marie Javins |
Jon Says:
Apparently, they have a hard time getting the trade dress right on this. Frist issue didn't say anything about it being a limited series, and now it's been bumped up to 7 issues but still says 6. Interesting so far. A nice mix of original Doom Patrol-style action and post-Morrison weirdness.
---
The Vigil (DC Comics)
#1A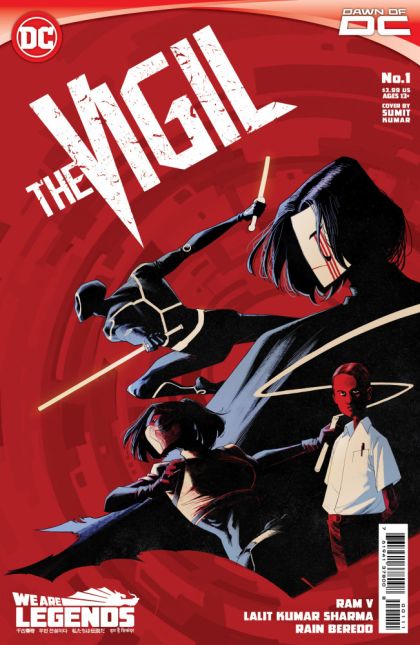 Sumir Kumar Regular
Release: May 16, 2023
/…/ /Who Are The Vigil? The shipping vessel Eastwind was taken captive by pirates off the coast of Thailand. 24 hours after the crew had been taken hostage, before communications had been established or any demands made, the crew reported an intervention by a group of unknown individuals. Amid other bizarre claims by the crew, are reports of an individual who changed his appearance at will and a woman who seemingly dodged bullets. Once the pirates were taken out, no attempts were made at rescuing the crew. There have long been rumors rogue metahumans targeting weaponized illegal technology. With some hinting that they call themselves The Vigil. What were they after? Why did they intervene? Are there metas among us? Stay tuned for more/ /…/ /you are being watched./
---
Creators
| | |
| --- | --- |
| Writer | Ram V. |
| Artist | Lalit Kumar Sharma |
| Colorist | Rainier Beredo |
| Cover Artist | Sumit Kumar |
| Editor in Chief | Marie Javins |
Jon Says:
I meant to pick this up last week.
---
As always, special thanks go out to my comic shop, Comic Logic Books & Artwork. Please remember to support your local comic shop, and if you need to find one, click here.
---
Born and raised in the sparsely populated Upper Peninsula of Michigan, Jon Maki developed an enduring love for comics at an early age.
---