I'm thinking this is going to be the last time I do a Pull List post. They take a surprising amount of effort, and the number of views they get is incredibly small, even relative to how little traffic this site gets overall.
So, unless there's some huge uptick in traffic and a bunch of people coming out and saying they want this feature to continue, this will be the last Pull List.
I'll probably keep doing Mail Call posts, as those are easier and actually do get some traffic sometimes.
That said, I do need to stop being lazy and write up more Unbagging posts.
But for now, enjoy one last look at the Pull List.
Barbarella: The Center Cannot Hold
#5A
Derrick Chew Regular
Release: Aug 09, 2023
At last, the secrets of the Unnamable are revealed! Having travelled beyond our universe to reach the home of the Unnamable, Barbarella and her stalwart companions may have the answers they've been seeking, but they're very, very far from home, and very, very vulnerable. Can a war between universes be averted? Will the Architects sacrifice our universe in the name of victory? Can we possibly fit in all the answers we're promising here? One thing's for sure, our universe will never be the same again. Learn more in this final chapter!
Creators
| | |
| --- | --- |
| Writer | Sarah Hoyt |
| Artist | Riccardo Bogani |
| Cover Artist | Derrick Chew |
Jon Says:
I buy these Barbarella books out of habit every time a new series comes out. I probably shouldn't. I have enjoyed the art in this, at least. Not that the rest of it is bad, it's just that nothing that has come since has good as that initial series I started with that was written by Mike Carey.
---
Danger Street
#8A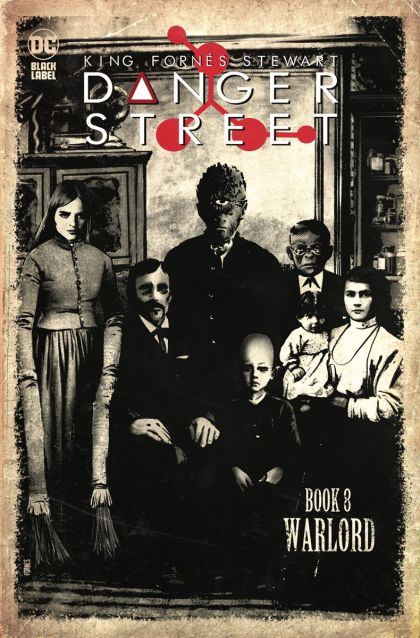 Jorge Fornés Regular
Release: Aug 08, 2023
The secret origin of the Green Team and Outsiders revealed! Meanwhile, the Commodore has revenge on the brain as he sends his knight, a.k.a. Assassin, to eliminate Manhunter. Do the good guys even stand a chance? With the real superheroes out of commission, the Dingbats may be the universe's only hope!
Creators
| | |
| --- | --- |
| Writer | Tom King |
| Artist | Jorge Fornés |
| Cover Artist | Jorge Fornés |
Jon Says:
It's another issue of Danger Street. You know how I feel about it. (Well, you probably don't, as you're probably not reading this.)
---
House of Slaughter
#16A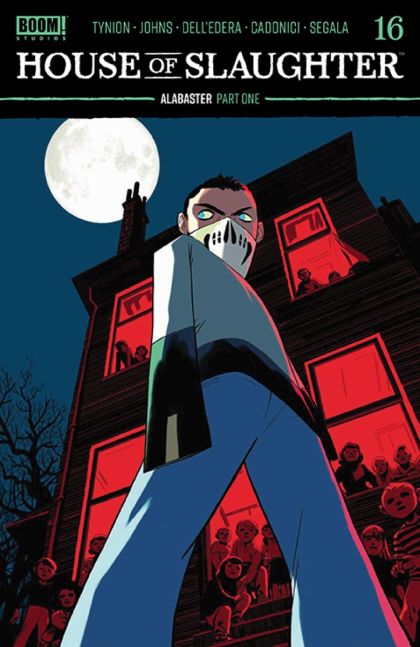 Javier Rodriguez Regular
Release: Aug 09, 2023
There is nothing the ruthless White Masks won't do to eliminate a nest of monsters. Nothing is apparently unthinkable or off-limits, as a special and infamous member of their ranks is dispatched to finish the job in Erie, Pennsylvania. Bait, the fan-favorite White Mask (a young boy with amputated arms and a tendency to survive suicidal odds), is dispatched with a mission more malicious than imaginable at hand. Something (or someone) else is killing the children now, and however unexpected… the children will find the one that hunts them viciously familiar…
Creators
| | |
| --- | --- |
| Writer | Sam Johns |
| Artist | Letizia Cadonici |
| Cover Artist | Javier Rodriguez |
Jon Says:
I was going to drop this and start tradewating on it, but then I didn't. True story.
---
Here come the Knight Terrors…
---
Knight Terrors
#3A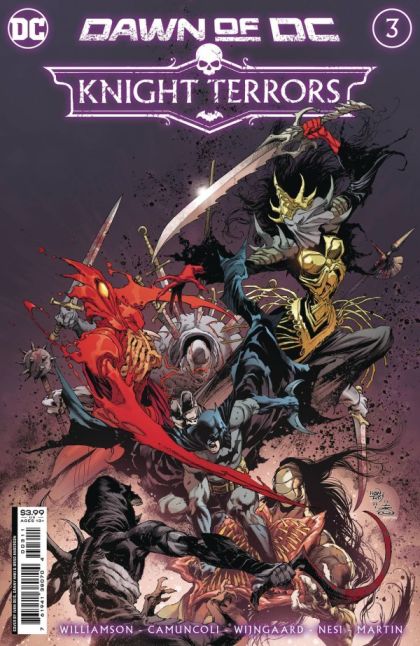 Ivan Reis & Danny Miki Regular
DEADMAN VS. DAMIAN! Welcome back, ghouls and ghosts! Deadman here–Boston Brand, again! My horror adventure continues as the Sleepless Knights attack us. But now I have a new problem: Batman's son Damian is furious and keeps trying to fight me! My only safe haven is…the House of Horror.
Creators
| | |
| --- | --- |
| Writer | Joshua Williamson |
| Artist | Caspar Wijngaard | Giuseppe Camuncoli | Stefano Nesi |
| Colorist | Frank Martin Jr. |
| Cover Artist | Ivan Reis | Danny Miki |
| Editor in Chief | Marie Javins |
Knight Terrors: The Flash
#2A
Werther Dell'Edera Regular
CAN BARRY OUTRUN HIS BIGGEST FEARS? As Barry Allen plunges deeper into the Nightmare Realm, he's confronted with his biggest fears and experiences some of the most shocking events that took place before his return! Barry continues to run free of the terror, but something's gaining on him…
Creators
| | |
| --- | --- |
| Writer | Alek Paknadel | Alex Paknadel |
| Artist | Daniel Bayliss |
| Colorist | Igor Monti |
| Cover Artist | Werther Dell'Edera |
| Editor in Chief | Marie Javins |
Knight Terrors: Green Lantern
#2A
Lucio Parrillo Regular
EVEN SINESTRO HAS SOMETHING TO FEAR! As Hal Jordan is swallowed by the nightmare wave, Earth's Green Lantern shows this new malevolent threat what a man with the willpower to overcome fear can do. Meanwhile, as Sinestro grapples with the terrifying new dreamscape he's trapped in, we take a psychological roller coaster ride through his darkest fears–and most painful regrets.
Creators
| | |
| --- | --- |
| Writer | Jeremy Adams | Alex Segura |
| Artist | Mario Foccillo |
| Penciller | Eduardo Pansica |
| Inker | Julio Ferreira |
| Cover Artist | Lucio Parrillo |
| Editor in Chief | Marie Javins |
Knight Terrors: Robin
#2A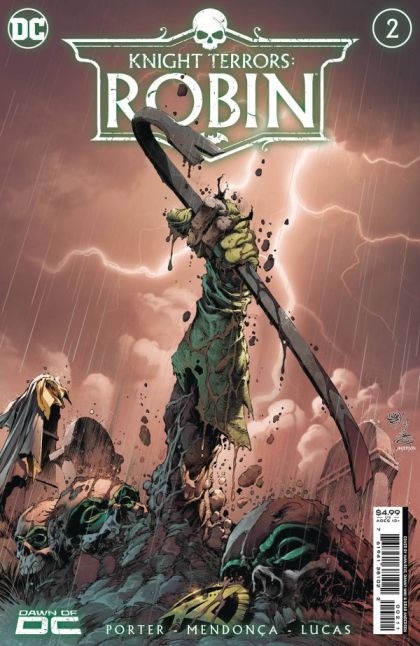 Ivan Reis Regular
ROBIN VS. ROBIN VS. NIGHTMARE ROBINS! The undynamic duo of Tim Drake and Jason Todd are on death's door. Lost in their own personal hells with their worst nightmares around every corner and nowhere to run, the two Robins must put aside their differences and find the strength to overcome their fears and fight back.
Creators
| | |
| --- | --- |
| Writer | Kenny Porter |
| Artist | Miguel Mendonça |
| Cover Artist | Ivan Reis |
Knight Terrors: Shazam!
#2A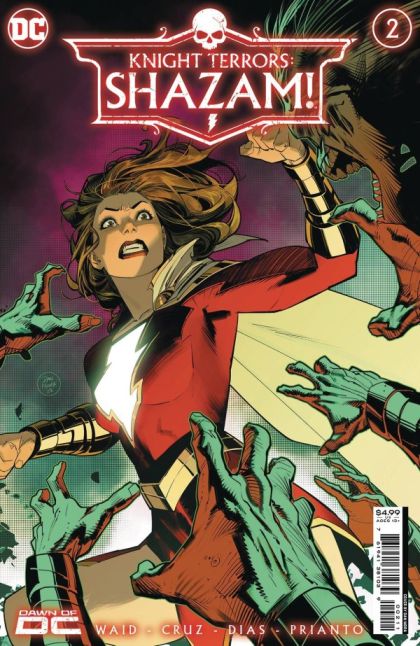 Dan Mora Regular
MEET THE NIGHTMARE CAPTAIN! Trapped in the Nightmare Realm, Mary Marvel thinks she's discovered her greatest fear–but she is wrong. She won't emerge from her dreamscape the way she entered it…at least not if the Nightmare Captain has anything to say about it!
Creators
| | |
| --- | --- |
| Writer | Mark Waid |
| Artist | Roger Cruz |
| Cover Artist | Dan Mora |
| Editor in Chief | Marie Javins |
Knight Terrors: Zatanna
#2A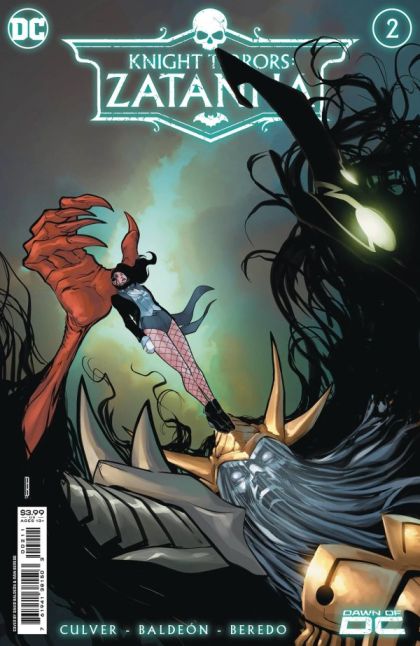 David Baldeón Regular
Release: Aug 08, 2023
TARGETED BY THE SLEEPLESS KNIGHTS! Insomnia's Sleepless Queen has transformed Robotman into one of her knights, and now the hunt is on for Zatanna to join them! If the Sleepless Knights succeed in making her one of their own, the Earth will never wake from its unending nightmare. Powerful magic comes with a powerful price, so Zatanna must decide whether she's willing to pay it to save the world. Which means things aren't looking good for Robotman!
Creators
| | |
| --- | --- |
| Writer | Dennis Culver |
| Artist | David Baldeón |
| Cover Artist | David Baldeón |
---
Multiversity: Harley Screws Up The DCU
#6A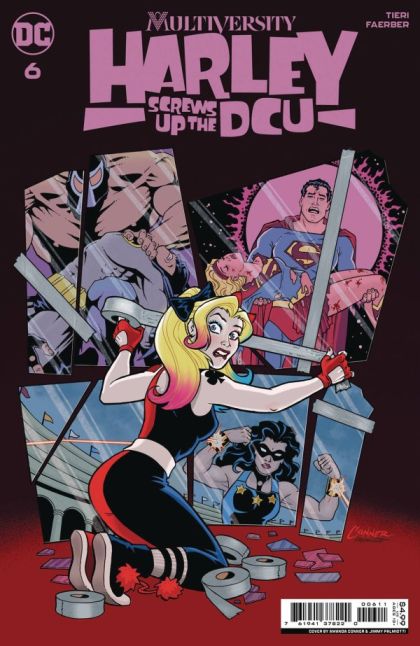 Amanda Conner Regular
Release: Aug 08, 2023
She's traversed time and space, fixing everything she messed up, but one (pretty dang big) question remains: Just who the heck gave Harley Quinn a time machine in the first place? The answer needs to be seen to be believed! Harley's time-hopping, universe-screw-upping adventure comes to a close in this Starro-studded finale!
Creators
| | |
| --- | --- |
| Writer | Frank Tieri |
| Artist | Logan Faerber |
| Cover Artist | Amanda Conner |
Jon Says:
It's over. It had fun Amanda Conner Covers and it occasionally made me chuckle. Ultimately, I think I just enjoy Harley more outside of comics than in.
---
Spirit World, Vol. 2
#4A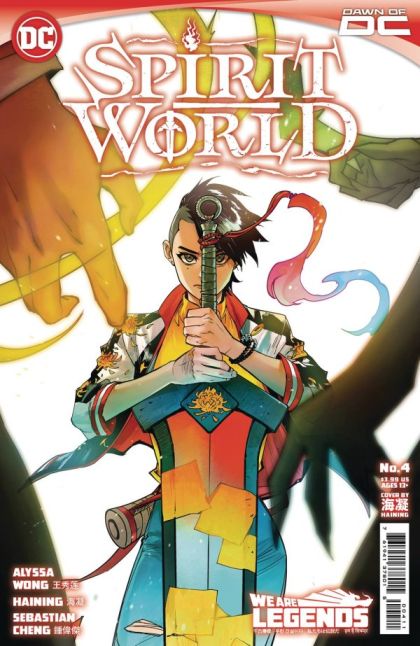 Haining Regular
Release: Aug 08, 2023
FEATURING CONSTANTINE! Cass Cain, Batgirl, has died before, and it seems the spirits of the Spirit World met her when she passed through before being revived by the Lazarus Pit…but then how come she doesn't remember being there? Then, as Constantine's memories start to fade after being in the Spirit World for too long, he begins to turn on Xanthe, who needs to find a way back to the land of living or Constantine will be a permanent resident of the land of the dead…either way, time's running out!
Creators
| | |
| --- | --- |
| Writer | Alyssa Wong |
| Cover Artist | Haining |
Jon Says:
Of the "We Are Legends" books, this one seems to be the most tied to the main DCU, which I suppose, make sense, given that it's a legacy title. I do have to admit that I have trouble remembering what's going on with each new issue, but that's probably just my aging brain.
---
Superman, Vol. 6 Annual
#1A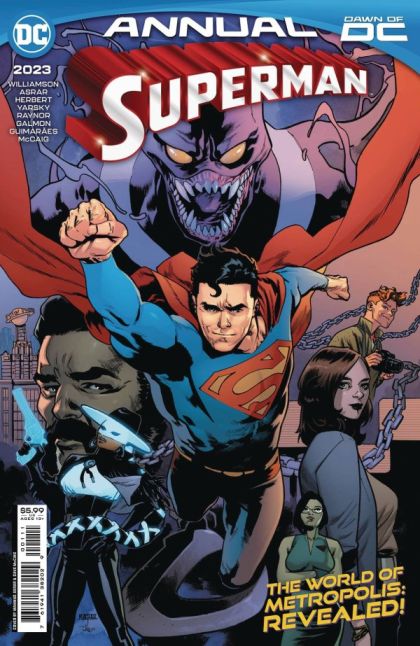 Mahmud Asrar Regular
Release: Aug 08, 2023
METROPOLIS'S SECRETS ARE REVEALED! Art by Mahmud Asrar, Max Raynor, Jack Herbert, and Caitlin Yarsky Lois Lane is now editor-in-chief of the Daily Planet, but at heart she'll always be an investigative reporter. And lately Metropolis has had a whole new set of secrets she must uncover. Even if it means investigating her own husband…Superman! Featuring Livewire, Parasite, and Mercy, this special issue is your next big puzzle piece leading to a massive Superman crossover in 2024! Don't miss out!
Creators
| | |
| --- | --- |
| Writer | Joshua Williamson |
| Artist | Max Raynor | Caitlin Yarsky | Jack Herbert | Mahmud Asrar |
| Cover Artist | Mahmud Asrar |
| Editor in Chief | Marie Javins |
Jon Says:
Annuals just aren't as exciting as they were when I was a kid. It's been that way for a while, going back to the '90s. Even when they're actually part of an event, they don't really feel like an event themselves. It doesn't help that they don't come out on any kind of consistent schedule. Most of the time, they don't even come out annually. But hey, at least this one is focusing on Lois.
---
World's Finest: Teen Titans
#2B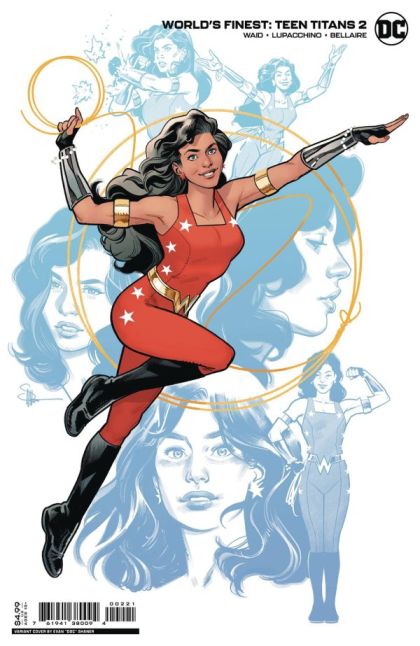 Evan Doc Shaner Variant
Release: Aug 08, 2023
DONNA TROY JOINS THE TEAM! Welcome to Metropolis, Wonder Girl! Hoping to reconnect with her human roots, Donna Troy leaves Themyscira for the City of Tomorrow. There she meets Mal Duncan, a young man with the makings of a true hero. And just in time, too–the Titans will need all the help they can get as they investigate a cry for help that leads them to a haunted house that is not what it seems!
Creators
| | |
| --- | --- |
| Writer | Mark Waid |
| Artist | Emanuela Lupacchino |
| Colorist | Jordie Bellaire |
| Letterer | Steve Wands |
| Cover Artist | Evan 'Doc' Shaner |
| Editor | Paul Kaminski |
| Editor in Chief | Marie Javins |
Jon Says:
First issue didn't wow me. We'll see how this one does. I do like Lupacchino's art.
---
As always, special thanks go out to my comic shop, Comic Logic Books & Artwork. Please remember to support your local comic shop, and if you need to find one, click here.
---
Born and raised in the sparsely populated Upper Peninsula of Michigan, Jon Maki developed an enduring love for comics at an early age.
---