Adventures of Superman: Jon Kent
#6A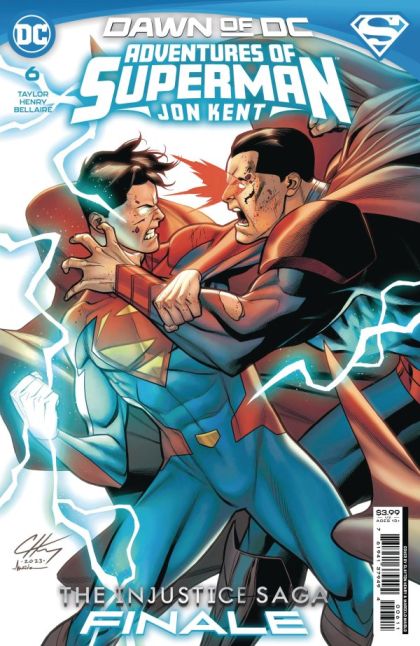 Clayton Henry Regular
SUPER SON VS. SUPER SON! It's Batman versus Superman. Super Son versus Super Son. Injustice Superman is ruling with a fist of steel. Can Jon Kent free an entire world? And what could he lose if he tries?
Creators
| | |
| --- | --- |
| Writer | Tom Taylor |
| Artist | Clayton Henry |
| Colorist | Jordie Bellaire |
| Cover Artist | Clayton Henry |
Jon Says:
I think this is the end? Pretty sure it was just a six-issue mini. Even if it is meant to be ongoing, it'll probably stop here and then start up again in a copule of months with a new title and a new #1. I don't know. Anyway, it's been pretty good, even though I'm so tired of evil Superman stories.
---
City Boy
#3A
Minkyu Jung Regular
After barely fighting off Intergang with the help of Metropolis, the city itself in the form of a dragon avatar, City Boy realizes the more he taps into his powers, the louder it is inside his head…hearing and feeling everything about the city and its history all at once, nonstop. So, he goes to ask for help from someone else who hears all of Metropolis all the time: Superman!
Creators
| | |
| --- | --- |
| Writer | Greg Pak |
| Artist | Minkyu Jung |
| Cover Artist | Minkyu Jung |
| Editor in Chief | Marie Javins |
Jon Says:
While Spirit World has had some existing DC characters from the start, this and The Vigil have been acking in that department, so I'm glad to see Superman making an appearance. Not that I don't think these "Dawn of DC" books can't stand on their own, but they do need to feel connected to the larger universe they're part of.
---
Conan the Barbarian (Titan Books)
#1A
Dan Panosian Regular
#1C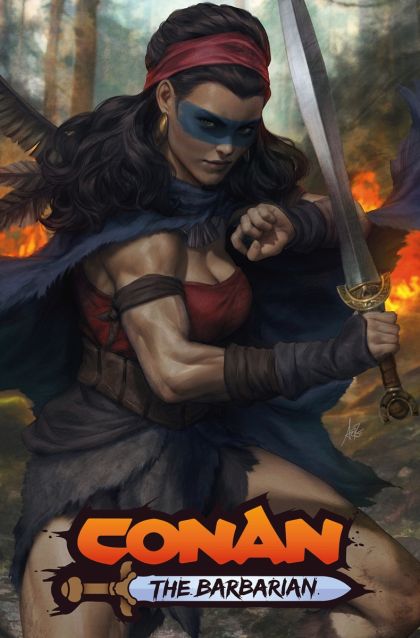 Artgerm Variant
#1D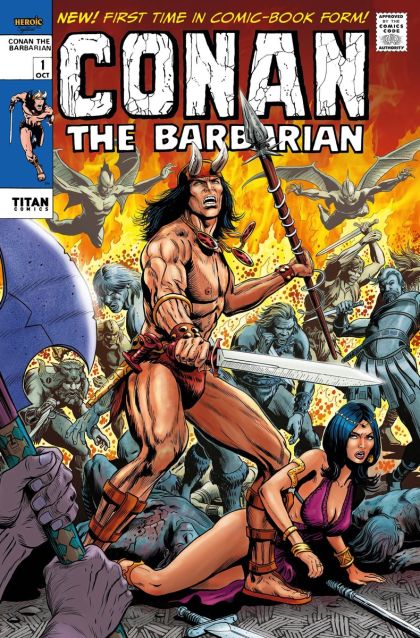 Patrick Zircher Retro Variant
#1G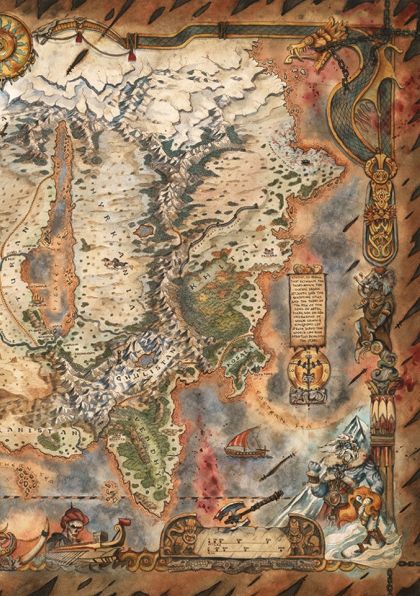 Hyborian Age Wraparound Variant
#1FOC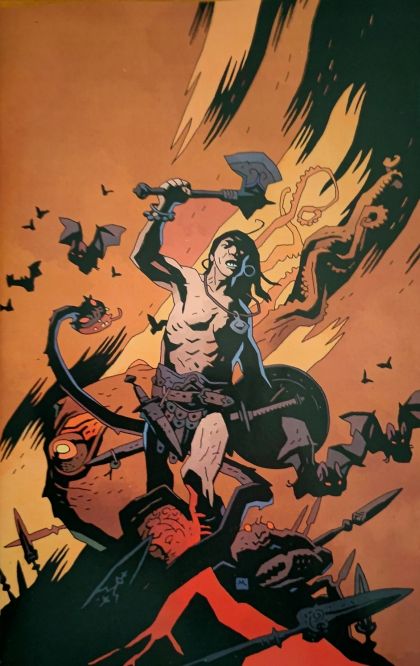 Mike Mignola Variant
Titan Books
ROBERT E. HOWARD'S LEGENDARY CONAN IS BACK IN A NEW TALE OF BRAVERY AND HEROISM! CONAN THE BARBARIAN FCBD EDITION LEADS INTO THE DEBUT ISSUE! Years after the battle of Venarium, a weary CONAN returns to his homeland to seek rest and solitude. However, a mysterious scout rides in to warn the Cimmerians of an imminent threat on the march from the Pictish wilderness. Will CONAN and his new ally be able to hold off this new horde of invaders?
Creators
| | |
| --- | --- |
| Writer | Jim Zub |
| Artist | Roberto de la Torre |
| Colorist | José Villarrubia |
| Letterer | Richard Starkings |
| Cover Artist | Dan Panosian |
| Editor | Matt Murray |
Jon Says:
For my thoughts on this, see my Unbagging of the Free Comic Book Day issue.
I forgot to grab the variant cover by series artist Roberto de la Torre, and there is another variant I'd like to have, but I'm not sure that I'm going to try getting it. If there are any left at the shop next week, I'll probably pick up the de la Torre cover.
Oh, and I got in the spirit of things and wore the right shirt when I went out to the shop today.
---
---
It's Knight Terrors time. These issues wrap up the initial crop of tie-in minis.
---
Knight Terrors: Batman
#2A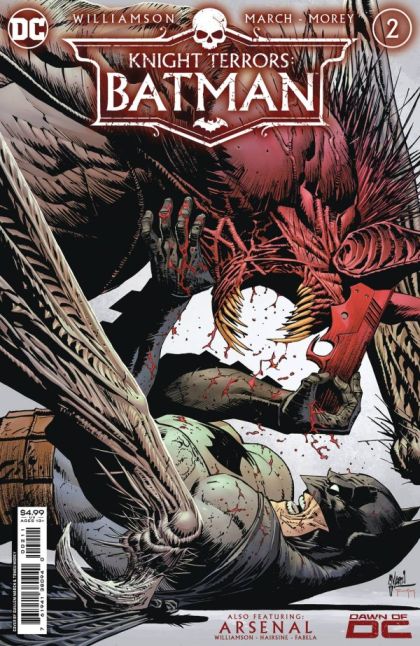 Guillem March Regular
THE MOST TERRIFYING DARK KNIGHT YOU'VE EVER SEEN! Bruce is trapped inside the Nightmare Realm, haunted by the dark shadows that he's created. To escape, he must regain control of his body. But that means going deeper into his own mind than he's ever gone before. Can Batman make himself scarier than he's ever been to survive? Also, what nightmares have Arsenal and Black Canary confronted in the Nightmare Realm?
Creators
| | |
| --- | --- |
| Writer | Joshua Williamson |
| Artist | Guillem March | Trevor Hairsine |
| Cover Artist | Guillem March |
| Editor in Chief | Marie Javins |
Knight Terrors: Black Adam
#2A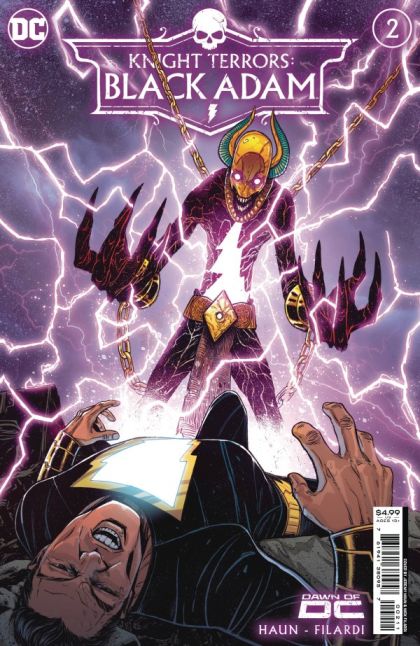 Jeremy Haun Regular
POWERLESS IN THE NIGHTMARE REALM! A powerless Black Adam has undertaken a perilous and dangerous journey in the Nightmare Realm with a mysterious feline guide. But a terrifying monster stalks him from the shadows and prepares a trap for the warlord!
Creator
| | |
| --- | --- |
| Writer | Jeremy Haun |
| Artist | Jeremy Haun |
| Cover Artist | Jeremy Haun |
| Editor in Chief | Marie Javins |
Knight Terrors: The Joker
#2A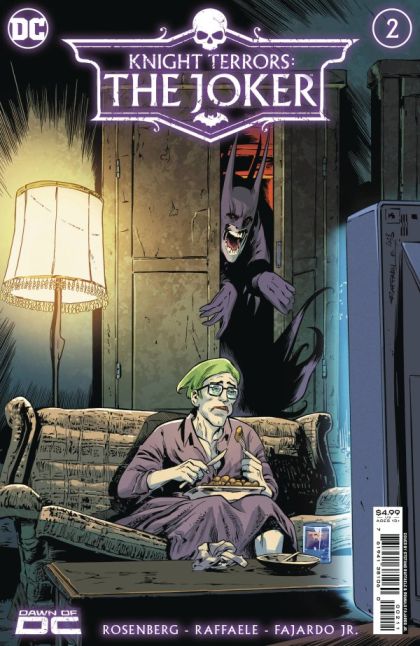 Stefano Raffaele Regular
A COMIC SO SCARY EVEN THE JOKER IS AFRAID! The Joker's nightmares have been terrifying and horrific…but what does the Clown Prince of Crime have locked away that might be the most disturbing reveal of the year?!
Creators
| | |
| --- | --- |
| Writer | Matthew Rosenberg |
| Artist | Stefano Raffaele |
| Cover Artist | Stefano Raffaele |
| Editor in Chief | Marie Javins |
Knight Terrors: Poison Ivy
#2A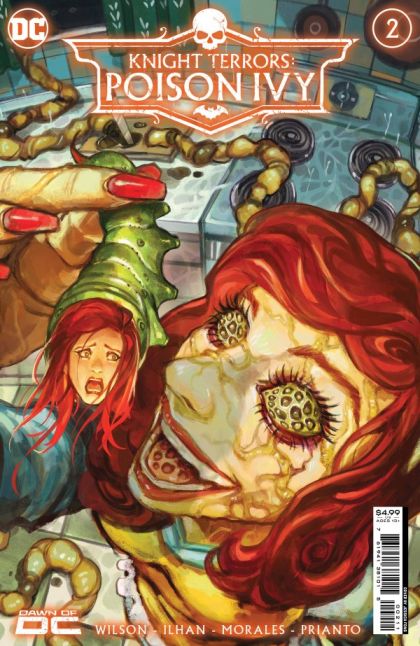 Jessica Fong Regular
STUCK IN SUBURBAN HELL! Pamela Isley and Harleen Quinzel are so absolutely, utterly in love that everything and everyone around them is just aces. Their neighbors are so happy it hurts. Why, even the sun is smiling! But when a few rotten eggs sneak into Ivy's perfect little cul-de-sac, things start to go foul. Can the verdant villainess escape the clutches of her own spoiling dream house before it eats her and Janet-from-HR alive?!
Creators
| | |
| --- | --- |
| Writer | G. Willow Wilson |
| Artist | Atagun Ilhan |
| Cover Artist | Jessica Fong |
Knight Terrors: Ravager
#2A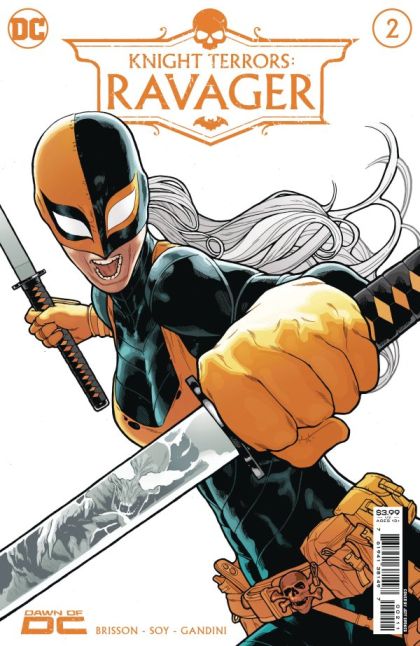 Jeff Spokes Regular
MURDER MAN MAYHEM! With danger hot on her heels and nowhere left to turn, Ravager finds herself trapped in the treacherous Nightmare Realm facing the Murder Man and his merciless Slaughter Squadron. With their sights set on unleashing a reign of terror on our world, they need Ravager's help to break through the barriers separating them from our reality. Can Ravager summon the strength to save us all from certain doom? Or will she fall victim to the Murder Man's diabolical plans? The clock is ticking, and the fate of humanity hangs in the balance.
Creators
| | |
| --- | --- |
| Writer | Ed Brisson |
| Artist | Dexter Soy |
| Cover Artist | Jeff Spokes |
| Editor in Chief | Marie Javins |
---
Love Everlasting
#10A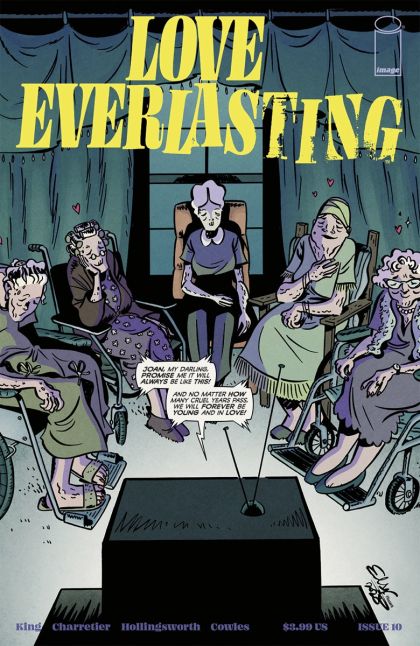 Elsa Charretier Regular
END OF STORY ARC "TOO HIP FOR LOVE," Part Five The incredible, unforgettable finale to the second arc. Joan desperately tries to find meaning in what has happened to her-the suffering, and the joy. And as she tries, the world she's come to know begins to collapse around her. Is she insane? Is anything real? The answers are finally here!
Creators
| | |
| --- | --- |
| Writer | Tom King |
| Artist | Elsa Charretier |
| Colorist | Matt Hollingsworth |
| Letterer | Clayton Cowles |
| Cover Artist | Elsa Charretier |
Jon Says:
What can I say? You know I love this one.
---
The Omega Men, Vol. 1
#3C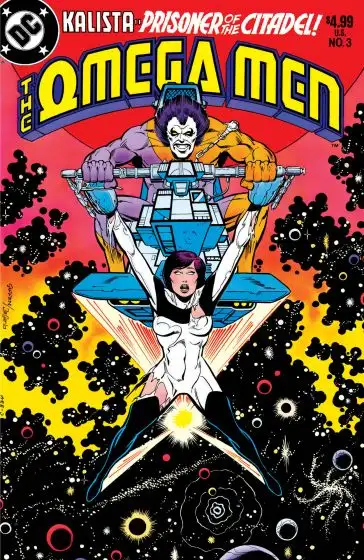 Facsimile 2023 Foil Edition
Creators
| | |
| --- | --- |
| Writer | Roger Slifer |
| Penciller | Keith Giffen |
| Inker | Mike DeCarlo |
| Colorist | Anthony Tollin |
| Letterer | John Costanza |
| Cover Penciller | Keith Giffen |
| Cover Inker | Mike DeCarlo |
| Editor | Marv Wolfman |
Jon Says:
It's the first appearance of the Main Man, ya bastiches!
Plus, you know I'm a sucker for these facsimile editions.
---
---
Once Upon a Time at The End of The World
#8A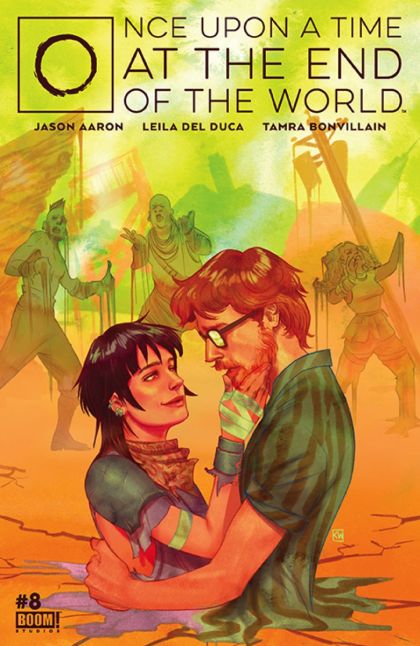 Kevin Wada Regular
In the post-apocalypse, paradise can't last for long! The cracks in Maceo and Mezzy's oasis turn to chasms as their relationship stability (and that of the community) faces its first disasters. Will Golgonzola, and their relationship, survive the horrors of the wasteland?
Creators
| | |
| --- | --- |
| Writer | Jason Aaron |
| Artist | Leila del Duca |
| Colorist | Tamra Bonvillain |
| Cover Artist | Kevin Wada |
Jon Says:
I've been enjoying this, but I have to wonder how much longer it can continue, given the way things have been going, and, y'know, the title. Of course, we have had a jump ahead in time earlier on that provided some idea of where things are headed.
---
Peacemaker Tries Hard!
#3A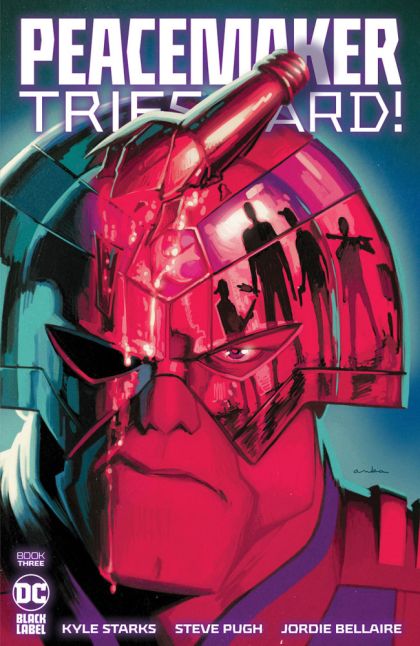 Kris Anka Regular
Betrayed, bleeding, and broken, Peacemaker drags his finely toned body to a local watering hole where he can existentially question his violent pursuit of peace from the safety of a barstool. But his wallowing is short-lived. He's going to get his dog back…but he's going to need some help. Lucky for Peacemaker, his parole officer, Richard, has a colorful costumed past…
Creators
| | |
| --- | --- |
| Writer | Kyle Starks |
| Artist | Steve Pugh |
| Cover Artist | Kris Anka |
| Editor in Chief | Marie Javins |
#4A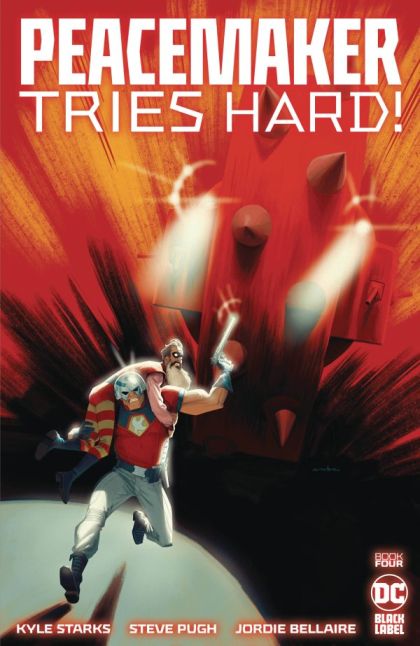 Kris Anka Regular
Release: Aug 01, 2023
FEATURING DEATHSTROKE! WELL…KINDA! Things go from bad to worse when Peacemaker, with the help of some Golden Age superheroes, infiltrates General Immortus's secret island base–but ends up captured by a drug smuggler with a penchant for his own goods. Bullets, powder, and punches fly, and Peacemaker's geriatric squad have victory in sight. But first…they'll have to get through Deathstroke! Well…kinda…
Creators
| | |
| --- | --- |
| Writer | Kyle Starks |
| Artist | Steve Pugh |
| Cover Artist | Kris Anka |
Jon Says:
I forgot to pick up #3 last month. Rectified that while picking up #4. It's been fun so far.
---
The Sandman Universe Special: Thessaly
#1A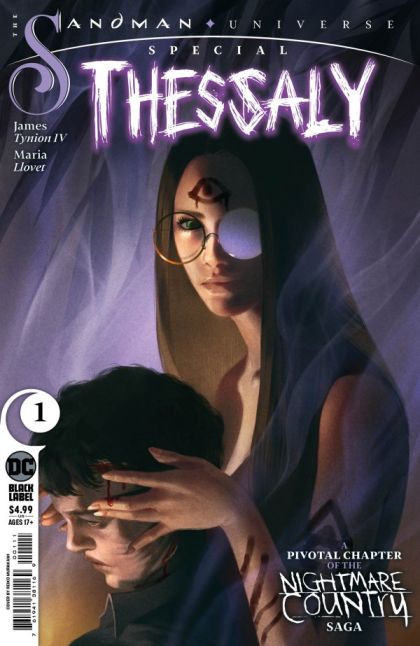 Reiko Murakami Regular
The immortal witch Thessaly is no stranger to dead ends. But she's won the hearts of gods and beings more powerful than gods, and persistence has always been her strong suit. Following her scheming machinations in Nightmare Country and Dead Boy Detectives, Thessaly is more determined than ever to suss out the seemingly impenetrable mystery surrounding the death of Madison Flynn. To do that, she's going to have to get close to the source material–close enough to magic herself into the job of screenwriter on Madison Flynn's biopic. But she's going to need a little help to keep the gig…perhaps from one of those Muses the King of Dreams told her about long ago… The Sandman Universe Special: Thessaly reunites Nightmare Country visionary James Tynion IV with star Faithless artist Maria Llovet to take you on a journey through the festering darkness pulsating beneath Hollywood's glitz and glamour!
Creators
| | |
| --- | --- |
| Writer | James Tynion IV |
| Artist | Maria Llovet |
| Cover Artist | Reiko Murakami |
Jon Says:
As I said before, I wish this storyline could just play out in a single series instead of all of these minis and one-shot. Still, this one is by Tynion himself, so it should be good.
---
Steelworks
#3E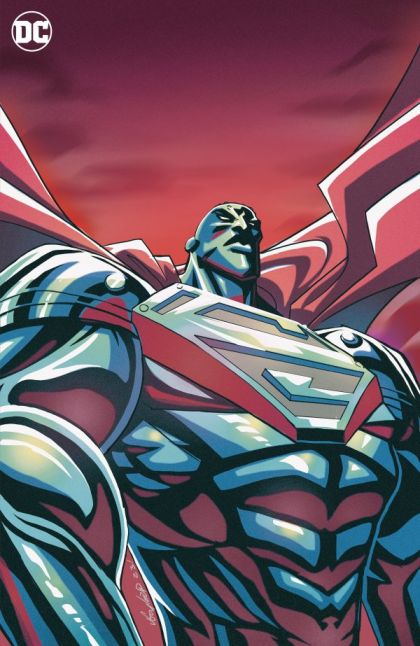 Jerry Gaylord Foil Variant
AT THE MERCY OF THE SILVER MIST! Natasha Irons may have solved the mystery of the strange intruder at Steelworks Tower…but will she live to tell the tale? The Silver Mist's plan to sabotage Steel's technology takes a twisted new turn, and murder is in the air! Meanwhile, John Henry's bold vision for Metropolis has driven a wedge between him and the Super-Family, all on the eve of Metropolis's biggest celebration: Centennial Day.
Creators
| | |
| --- | --- |
| Writer | Michael Dorn |
| Artist | Sami Basri |
| Cover Artist | Jerry Gaylord |
Jon Says:
I'm running out of steam here. Making these posts takes more work than you might expect, and hardly anyone is reading them anyway.
*Sigh* This one has been fine. Well done for a first-time comic-writer, and all part of what I've been saying about how it's a good time to be a fan of the Superman Family.
---
Swamp Thing: Green Hell HC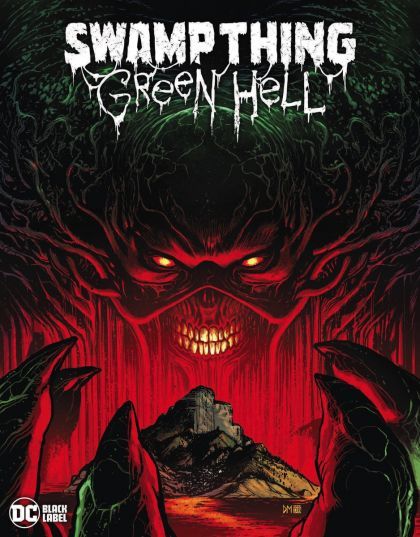 The Earth is all but done. The last remnants of humanity cling to a mountaintop island lost in endless floodwater. The parliaments of the Green, the Red, and the Rot have united their powers to summon an avatar-a horrific, humanity-killing monster who could only be stopped by Alec Holland. Shame he's been dead for decades… Collects the complete miniseries SWAMP THING: GREEN HELL #1-3.
Jon Says:
I decided to wait on this when it was coming out in individual issues. I generally like Lemire's work, and I've heard good things about this.
---
As always, special thanks go out to my comic shop, Comic Logic Books & Artwork. Please remember to support your local comic shop, and if you need to find one, click here.
---
Born and raised in the sparsely populated Upper Peninsula of Michigan, Jon Maki developed an enduring love for comics at an early age.
---