The Pull List For 8.30.23
Action Comics Presents: Doomsday Special
#1A
Bjorn Barends Regular
#1F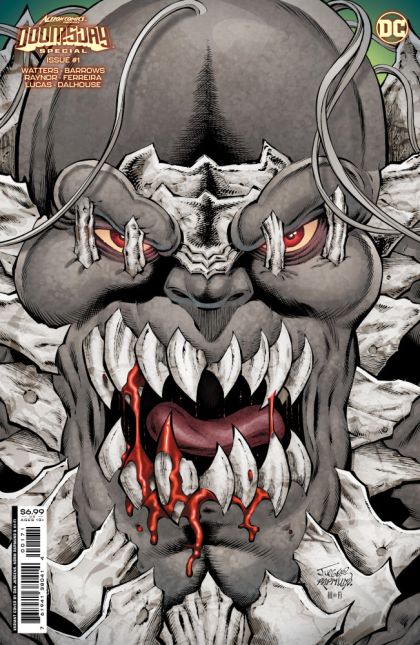 Dan Jurgens Variant
Release: Aug 29, 2023
DOOMSDAY RULES…IN HELL! It is a creature beyond reason–and the only force in the universe strong enough to kill Superman. It's Doomsday, the living embodiment of death, destruction, and evolution! In the wake of Dark Crisis and Lazarus Planet, King Doomsday now sits on a throne of skulls across a river of blood, holding court over the demons that swarm in the depths of Hell…and he may have just found a way back to the land of the living. It's now up to Supergirl and Martian Manhunter to drive the beast back and see that he never again returns to our earthly plane–even if they must die to do it! Plus: the return of Bloodwynd, the debut of the Doomhounds, and a clue to the next big Superman event!
Creators
| | |
| --- | --- |
| Writer | Dan Watters |
| Artist | Eddy Barrows |
| Cover Artist | Björn Barends |
| Editor in Chief | Marie Javins |
---
Batman / Catwoman: The Gotham War – Battle Lines
#1A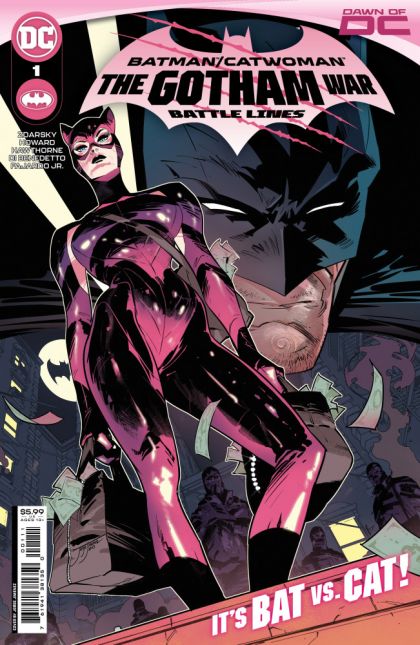 Jorge Jimenez Regular
Release: Aug 29, 2023
THE BAT/CAT WAR STARTS HERE! Crime is down in Gotham City… Could that be a bad thing? A coordinated effort in Gotham has led to a reduction in violent crime, but at what cost? Villains scatter as their lives begin to crumble under a new regime. And as Batman recovers from his epic battle through the Multiverse and the horrors of Knight Terrors, one name runs through his mind. One name at the heart of this new, safer Gotham…Catwoman. A conflict that's been brewing for well over a year finally hits the streets, and it will fracture the Bat-Family as war erupts! From bestselling writers Chip Zdarsky and Tini Howard and artists Mike Hawthorne and Adriano Di Benedetto comes the opening shot in the Gotham War!
Creators
| | |
| --- | --- |
| Writer | Chip Zdarsky, Tini Howard |
| Artist | Mike Hawthorne, Adriano Di Benedetto |
| Cover Artist | Jorge Jiménez |
---
Catwoman: Uncovered
#1A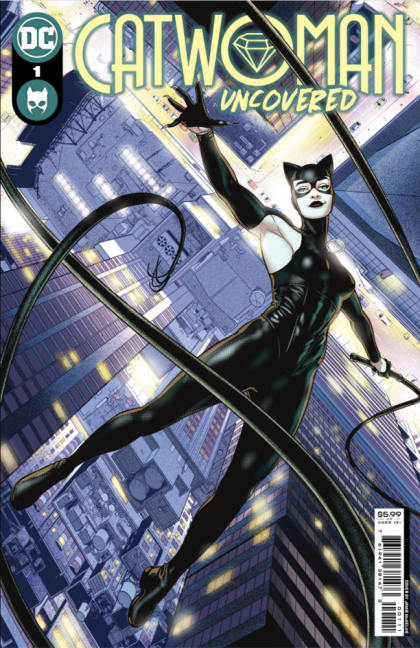 Frank Cho Regular
#1B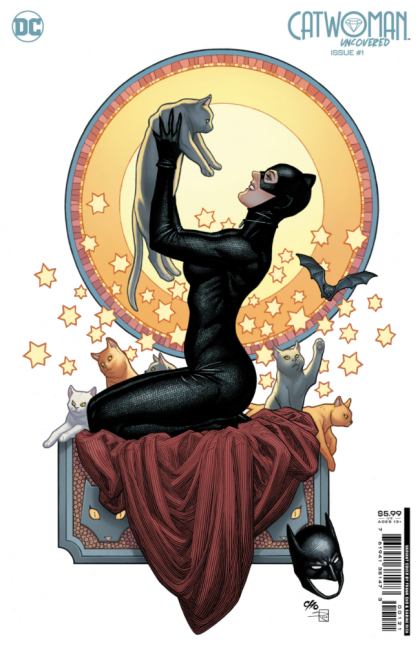 Frank Cho Variant
Release: Aug 29, 2023
SHOWCASING THE FELINE FATALE'S BEST COVER ART! Art by Jenny Frison, Sozomaika, Tula Lotay, Jeff Dekal, Joshua Sway Swaby, Joelle Jones, and more! The cover art on Catwoman's celebrated series has been quite the cat's meow since it began on Catwoman #1, and we're here to show you everyone's favorite cat burglar's best-of-the-best cover art over the years.
Creators
| | |
| --- | --- |
| Writer | Jessica Chen |
| Artist | Joshua "Sway" Swaby, Jeff Dekal |
| Cover Artist | Frank Cho |
| Editor in Chief | Marie Javins |
---
G'nort's Illustrated Swimsuit Edition
#1B
J. Scott Campbell Variant
#1C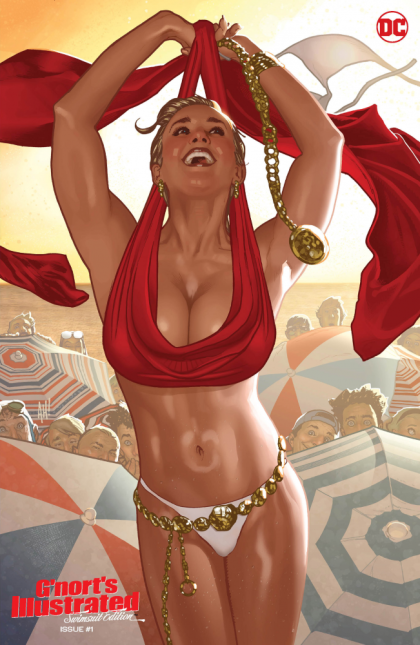 Adam Hughes Variant
Release: Aug 29, 2023
FUN IN THE SUN STARRING…G'NORT! Art by Paul Pelletier, Nicola Scott, Mikel Janin, Jeff Dekal, Daniel Sampere, Gleb Melnikov, Derrick Chew, Stanley Artgerm Lau, Emanuela Lupacchino, Joelle Jones, Megan Huang, Terry Dodson, Babs Tarr, Pete Woods, Joe Quinones, Helene Lenoble, Otto Schimdt, Michael Allred, Sweeney Boo, David Talaski, Jenny Frison, and others! You may know G'nort as the bumbling Green Lantern who protects Space Sector 68. Then again, you may not know G'nort at all. Whatever the case, get ready to see him in his newest role as host and proprietor of this very special swimsuit edition comic! Join our favorite fuzzball as he showcases some of our best swimsuit covers and our most swim-tacular stories! From the Flash in a Speed Force Speedo to Batman in a bat(hing) suit, this very special one-shot is summer fun from (bikini) top to (bikini) bottom. Also collecting some of the steamiest swimsuit covers from DC's best talent, all in one place for the very first time!
Creators
| | |
| --- | --- |
| Writer | Shawna Benson, Julie Benson |
| Artist | Nicola Scott, Hélène Lenoble |
| Cover Artist | J. Scott Campbell |
| Editor in Chief | Marie Javins |
---
Knight Terrors: Night's End
#1A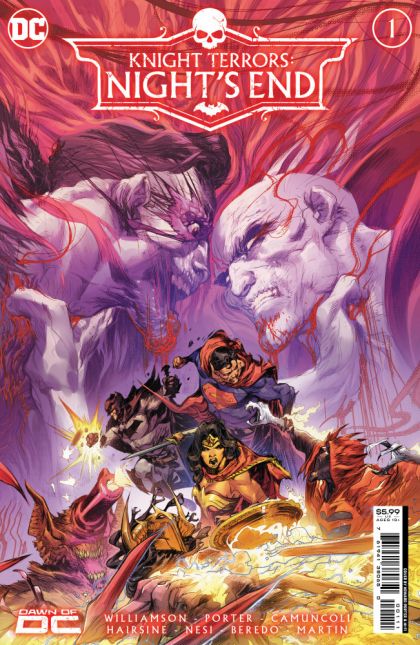 Howard Porter Regular
Release: Aug 29, 2023
THE TERRIFYING EVENT CONCLUDES IN THIS THRILLING OVERSIZE ONE-SHOT! Batman, Superman, and Wonder Woman, along with the DCU's other heroes, have escaped the Nightmare Realm only to find the Nightmare League has followed them home! The entire world has become engulfed in horror, and the last person standing to take down Insomnia is Deadman. But does he want to? And don't miss the exciting ending that continues the Dawn of DC mystery and introduces Dr. Hate! Wait…who is Dr. Hate? Knight Terrors' thrills and chills are brought to the DC Universe by DC architect and superstar writer Joshua Williamson with horrific art by comics legend Howard Porter!
Creators
| | |
| --- | --- |
| Writer | Joshua Williamson |
| Artist | Howard Porter |
| Cover Artist | Howard Porter |
---
The Sandman Universe: Nightmare Country – The Glass House
#4A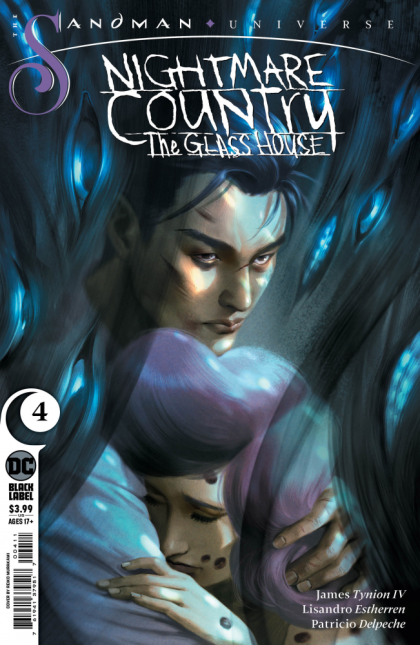 Reiko Murakami Regular
Release: Aug 29, 2023
FROM MULTIPLE EISNER-AWARD WINNER JAMES TYNION IV! The immortal witch Thessaly has interjected herself into the brewing storm between heaven and hell, the waking world and dreams–and there are powerful forces who demand she pay in blood for her meddling. Thessaly, however, only has eyes for the mystery of Flynn and the Smiling Man. As for the Corinthian? Despite his promises to Dream, he's less and less sure whose side he's on with every passing moment…
Creators
| | |
| --- | --- |
| Writer | James Tynion IV |
| Artist | Lisandro Estherren |
| Cover Artist | Lisandro Estherren, Reiko Murakami |
---
Superboy: The Man of Tomorrow
#5A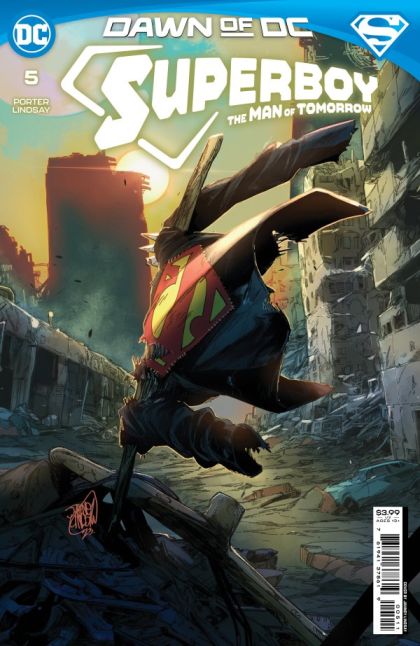 Jahnoy Lindsay Regular
Release: Aug 29, 2023
CONNER KENT STRANDED IN THE COSMOS! Conner's been left for dead on a planet far out in the cosmos. With his teleportation band broken, he has no way of getting in touch with Kelex or telling the Green Lantern Corps what Travv's master plan is. He'll need to find a way off this world if he's going to stop Travv, but even if he does, can he really make a difference in this cold, harsh universe?
Creators
| | |
| --- | --- |
| Writer | Kenny Porter |
| Artist | Jahnoy Lindsay |
| Cover Artist | Jahnoy Lindsay |
| Colorist | Jahnoy Lindsay |
| Letterer | Lucas Gattoni |
| Editor | Andrew Marino |
---
As always, special thanks go out to my comic shop, Comic Logic Books & Artwork. Please remember to support your local comic shop, and if you need to find one, click here.
---
Born and raised in the sparsely populated Upper Peninsula of Michigan, Jon Maki developed an enduring love for comics at an early age.
---