The Pull List For 7.26.23
Batman Beyond: Neo-Gothic
#1A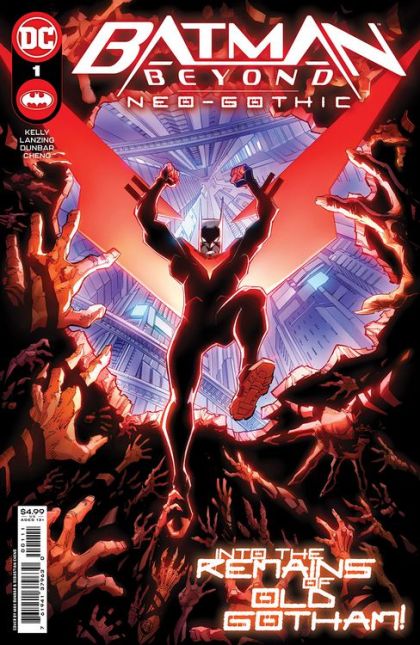 Max Dunbar Regular
Release: Jul 25, 2023
Terry McGinnis defeated the evil A.I. controlling Neo-Gotham and asserted himself as the one true Batman, but his next battle will bring him to the remains of Old Gotham. Children are going missing and being swallowed by the city's old bones. Batman Beyond will have to go underground, led by a mysterious splicer named Kyle the Catboi, to find the children and confront the city's buried sins. What happened to the green of the city? What happened to magic? And what villains never left old Gotham? All these questions will be answered by the red-hot creative team of Collin Kelly and Jackson Lanzing (Batman – One Bad Day: Clayface, Captain America: Sentinel of Liberty) and Max Dunbar (Batman: Urban Legends).
Creators
| | |
| --- | --- |
| Writer | Collin Kelly | Jackson Lanzing |
| Artist | Max Dunbar |
| Cover Artist | Max Dunbar |
| Editor in Chief | Marie Javins |
Jon Says:
I don't know, I think I'm done with Batman Beyond comics. I really haven't liked any of the iterations of it that are more in line with the main DC continuity as I did the volumes that were set more in the DCAU continuity. I guess we'll see how it goes.
---
Eight Billion Genies HC
#1HC
Release: Jul 19, 2023
If you had one wish…what would you wish for? What if everyone else on the planet had one wish too? That's EIGHT BILLION GENIES. Eight seconds after magical genies grant every person on earth one wish, the world is transformed forever…and that's just the beginning! From #1 New York Times-bestselling author CHARLES SOULE (UNDISCOVERED COUNTRY, Light of the Jedi) and superstar artist RYAN BROWNE (CURSE WORDS, GOD HATES ASTRONAUTS) comes the most thought-provoking, hilarious, terrifying, and emotional ride of the year. Collects EIGHT BILLION GENIES #1-8
Jon Says:
There was a lot of buzz around this when it first hit the stands, but I decided to hold off and buy it in a collected edition. Which is what I did.
Also, I got a signed bookplate with my purchase.
---
Up next is the Knight Terrors section. The main thing of note is that for some reason Knight Terrors: Superman wasn't in my stack last week and I didn't notice until I got home, so I picked it up this week.
---
Knight Terrors
#2A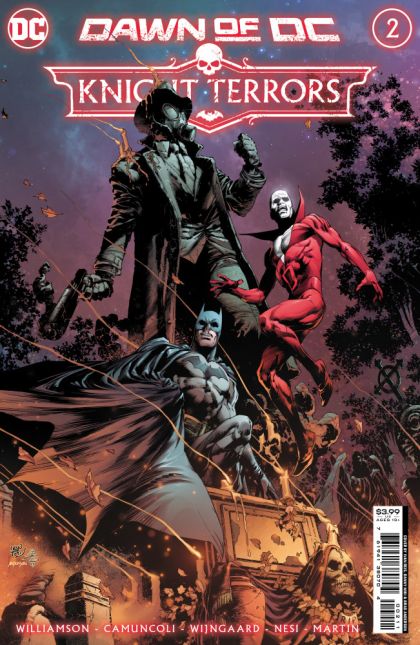 THE DEBUT OF INSOMNIA'S ARMY, THE SLEEPLESS KNIGHTS! Oh dang–I gotta do another one of these this month? Batman and I are joined by…Wesley Dodds, the Sandman?! What the heck? I thought I was the only dead person allowed in this story. I guess not! We uncover one of Wesley's oldest cases, which haunted him until the day he died–and it points us in the direction of the Nightmare Stone. But Insomnia has unleashed his own army to hunt us down…the Sleepless Knights. And this issue is their first appearance, kids! Get scared!
Creators
| | |
| --- | --- |
| Writer | Joshua Williamson |
| Artist | Giuseppe Camuncoli | Caspar Wijngaard |
| Cover Artist | Ivan Reis | Danny Miki |
Knight Terrors: Action Comics
#1A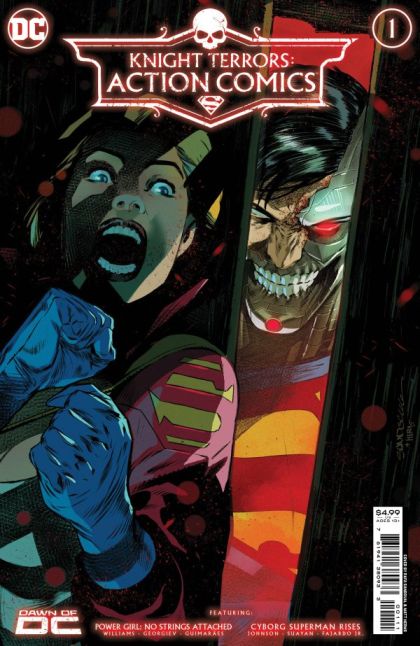 Rafa Sandoval Regular
Slipping into the world of nightmares is only the beginning as Power Girl faces off with the scariest dream of all…herself! Paige may have narrowly escaped the grasp of the devious Johnny Sorrow, but all of that was just a warm-up for the real villain inside. Meanwhile, the Super-Twins are lost in a terrifying dreamscape and being hunted by a nightmare version of their own adopted father, the murderous Cyborg Superman. Can Superboy, Kong Kenan, and the Steel family find the twins in time to save them, or will they join his bloody list of victims?
Creators
| | |
| --- | --- |
| Writer | Leah Williams | Phillip Kennedy Johnson |
| Artist | Vasco Georgiev | Mico Suayan |
| Colorist | Romulo Fajardo, Jr. | Alex Guimaraes |
| Cover Artist | Rafa Sandoval |
Knight Terrors: Angel Breaker
#1A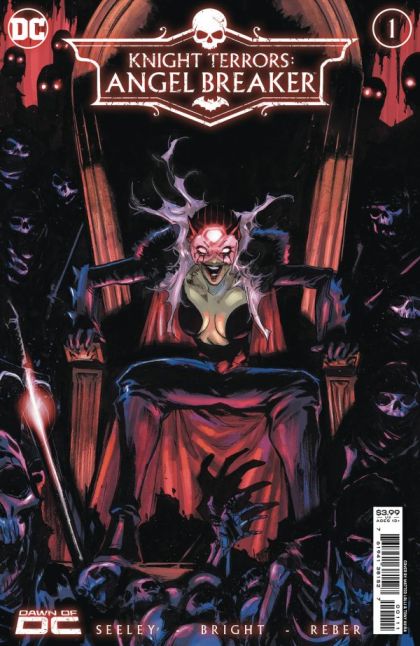 Matteo Lolli Regular
STARRING THE BREAKOUT NEW CHARACTER! Deep in an abandoned Kobra safe house is a device able to access the dream powers of John Dee, a.k.a. Doctor Destiny. As heroes across the world succumb to nightmares, Angel Breaker wants it. Now, to infiltrate a hall of horrors, she'll need the help of a professional thief–the man known as Raptor. But Angel Breaker and Raptor aren't exactly friends. Can the mysterious merc trust a man who feels nothing but grudges as the strange pair encounter a horror as old as the Coda Sisterhood and even more dangerous? While the world sleeps, Angel Breaker might be the final girl still awake!
Creators
| | |
| --- | --- |
| Writer | Tim Seeley |
| Artist | Acky Bright |
| Cover Artist | Matteo Lolli |
Knight Terrors: Detective Comics
#1A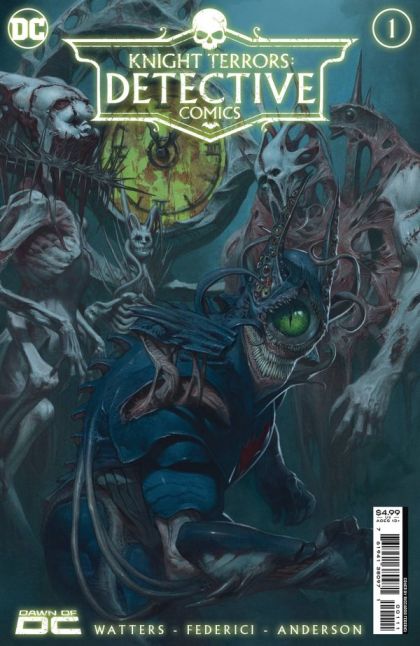 Riccardo Federici Regular
BATMAN TRAPPED IN THE NIGHTMARE REALM! Jim Gordon stumbles upon a sacred ritual held by three disciples chanting around an enchanted clock…and one of them is wearing the robotic Batsuit that he donned many years ago as Batman…except this metal suit seems to have have soldered directly into the flesh of the wearer! What do these creatures want with Gotham, and why are they targeting Jim's daughter, Babs, too? This has to be a dream, right? Or perhaps it's a nightmare, but if you die in it, you can die in real life as well…
Creators
| | |
| --- | --- |
| Writer | Dan Watters |
| Artist | Riccardo Federici |
| Colorist | Brad Anderson |
| Cover Artist | Riccardo Federici |
Knight Terrors: Harley Quinn
#1A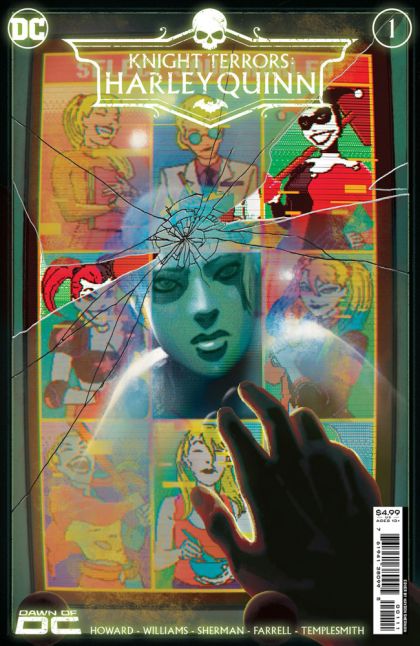 Hayden Sherman Regular
Imagine a world–beyond both the waking world and that of dreams. A world where your every choice creates a series of infinitely rippling profane reverberations. Where donuts and soda cans can do the cancan and I actually am goin' steady with yer mom. Our story takes place there, in the realm beyond the limits of the liminal. A place we call…the Harley Quinn Zone. I'm your host, Dr. Ryleha Q. Niun, attorney of drawers–Just kiddin'. It's still me, Harley! But hey, this one is real freaky–and my life is already pretty dang bananas! Hold on to your buns, 'cause this one is gonna give you some interdimensional chafing for sure! Plus, Leah Williams and Ben Templesmith help me crack a cosmic-mystery night terror! This case goes so many layers deep it's practically a true turductective story, if you will…
Creators
| | |
| --- | --- |
| Writer | Leah Williams | Tini Howard |
| Artist | Hayden Sherman | Ben Templesmith |
| Cover Artist | Hayden Sherman |
| Editor in Chief | Marie Javins |
Knight Terrors: Superman
#1A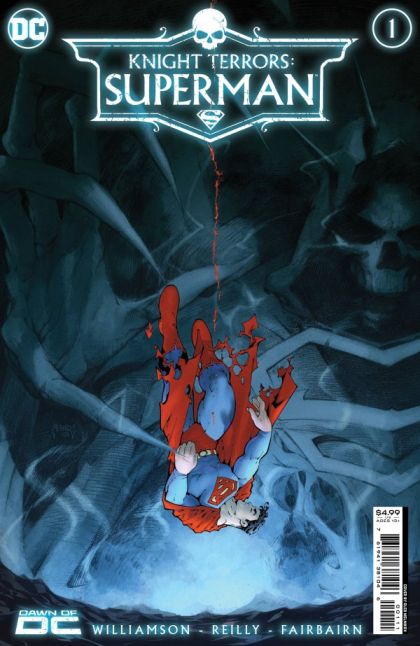 Gieb Meinikov Regular
Release: Jul 18, 2023
SUPERMAN VS. SUPER-REAPER! What does the Man of Steel have nightmares about? Clark Kent knows why he's been pulled into the Nightmare Realm and goes in search of his family and friends, but that journey takes him to the haunted Nightly Planet, where he is confronted by the Super-Reaper! In the waking world, Superman was midflight when he was hit by the nightmare wave. Where he crash-lands will surprise you!
Creators
| | |
| --- | --- |
| Writer | Joshua Williamson |
| Artist | Tom Reilly |
| Cover Artist | Gleb Melnikov |
Knight Terrors: Titans
#1A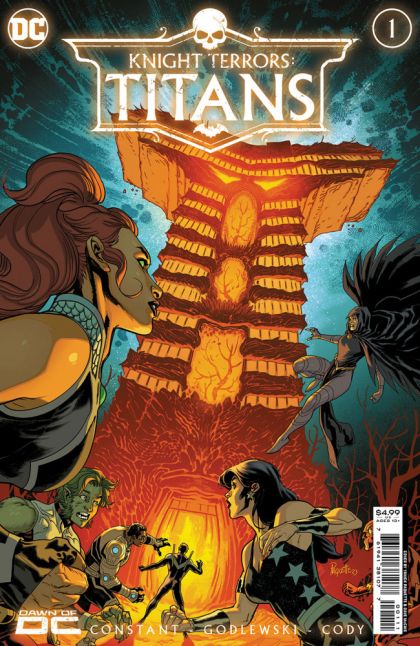 Yanick Paquette Regular
Release: Jul 25, 2023
TITANS VS. TERROR TITANS! The kids are not all right! After plummeting into the Nightmare Realm, the remaining members of the Titans come face-to-face with a fever dream turned reality: the Terror Titans! These warped versions of our heroes are prepared to do anything to become the next Justice League…even kill!
Creators
| | |
| --- | --- |
| Writer | Andrew Constant |
| Artist | Scott Godlewski |
| Cover Artist | Yanick Paquette |
---
She-Hulk, Vol. 4
#15A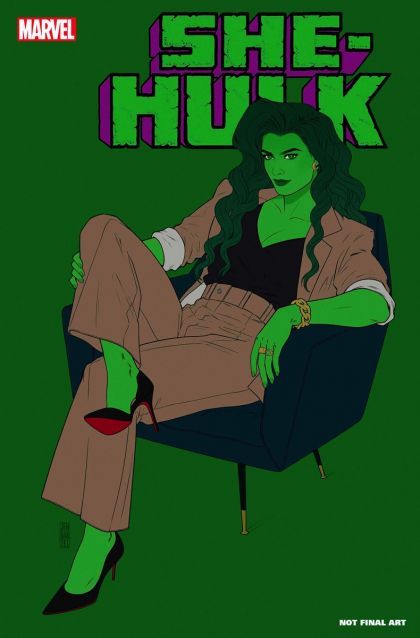 Jen Bartel Regular
Release: Jul 26, 2023
Scoundrel pushes She-Hulk to the limit in her final push to save all of NYC from her newest rogue! Meanwhile, the Fight Club has their hands full taking on an alien horde! Rated T+
Creators
Jon Says:
I've been really enjoying this series, and I'm glad it's going to continue, but I'm annoyed that it's getting a new #1 (along with a title change, adding back the 1990s' "Sensational").
The pathological need to have a series get a new #1 is just bizarre, especially when a book isn't getting a new creative team or anything like that.
---
Superman: The Last Days of Lex Luthor
#1C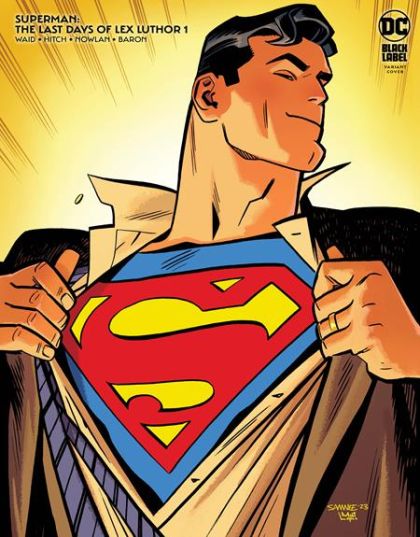 Chris Samnee Variant
Release: Jul 25, 2023
Mark Waid and Bryan Hitch reunite to tell a tale centered on their favorite superhero. Superman learns Lex Luthor is dying, and he wants the Man of Steel to help him find the cure for whatever is causing his rapid decline. While the world wants to say good riddance to Luthor, Superman will go to the ends of the universe, through different dimensions, and across time to save his foe. But just why does he want to save the person who's spent his life trying to destroy him? And will he even be able to find the solution?
Creators
| | |
| --- | --- |
| Writer | Mark Waid |
| Artist | Bryan Hitch |
| Penciller | Bryan Hitch |
| Inker | Kevin Nowlan |
| Colorist | David Baron |
| Cover Artist | Chris Samnee |
| Editor in Chief | Marie Javins |
Jon Says:
As I've said many times, it's a good time to be a fan of the Superman Family. Hopefully, this work will be a worthy addition.
---
As always, special thanks go out to my comic shop, Comic Logic Books & Artwork. Please remember to support your local comic shop, and if you need to find one, click here.
---
Born and raised in the sparsely populated Upper Peninsula of Michigan, Jon Maki developed an enduring love for comics at an early age.
---